NRA Basic Instructor Training (BIT) Class

"Joe and Janet's vast experience is obvious from the way they present the material throughout this class. They always focus on our needs. I'll benefit from the practical aspects of this class." — D.K. (Lawyer)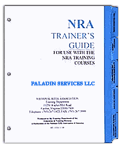 Class Length: 6 hours
Class Description
Class Schedule
How to Apply


The NRA Basic Instructor Training (BIT) class is the first part of every discipline-specific NRA instructor course. Discipline-specific NRA instructor courses include NRA Basic Pistol Instructor Training, NRA Basic Rifle Instructor Training, NRA Basic Shotgun Instructor Training.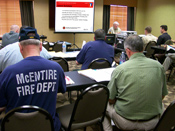 Before you can attend and complete any of those discipline-specific NRA instructor classes you must: 1. complete this NRA Basic Instructor Training class; 2. submit a Pre-Course Questionnaire together with your application for the class; and 3. pass a Pre-Course Qualification test intended to determine your suitability for the discipline-specific course that comes next.
NRA Basic Instructor Training is designed to develop NRA Certified Instructors who possess the knowledge, skills, and attitude necessary to conduct the NRA Basic Firearm Training Courses. It is the NRA class that helps people who already have subject matter expertise learn how to hold a class the NRA way so that their students earn recognized NRA certification.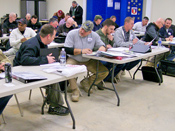 NRA Basic Instructor Training opens with an exercise on "How to Introduce a Speaker" designed as an icebreaker. You're paired with another Instructor Candidate, spend a few minutes in exchanging information, and introduce each other to the class. Immediately you start learning how to talk on your feet while we teach you how to offer useful praise and constructive suggestions. You're teaching. We help you conquer shyness and develop a communications bridge with a group of people who depend on you for positive instruction. Our classes establish an atmosphere in which your fellow students assist us in helping you succeed.
Step by step we guide you through five key lessons that help you learn essential methods of conducting a formal NRA class in the use of firearms. NRA Basic Instructor Training concludes with "Preparing to Teach" followed by the Trainers Examination.
The Trainers Examination is an open book test based on The Trainers Guide, the NRA textbook for Basic Instructor Training. We provide that book in class but you can also buy a copy directly from the NRA before you take our class if you want to prepare for it: http://materials.nrahq.org/go/product.aspx?productid=EF%2013530.
After you successfully complete NRA Basic Instructor Training with a score of at least 90% on the Trainers Examination you should be ready for whichever discipline-specific instructor training class comes next for you: Pistol, Rifle, Shotgun, or Personal Protection depending on your qualifications and enrollment. You demonstrate your qualifications for the discipline-specific class by passing the Pre-Course Qualification test associated with the specific discipline.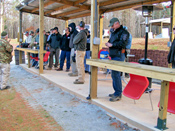 To make most efficient use of the day on which we hold the six hour NRA Basic Instructor Training class we go on to common elements of the discipline-specific courses (NRA Basic Pistol Instructor, NRA Basic Rifle Instructor, NRA Basic Shotgun Instructor, and NRA Personal Protection Instructor) for students who have registered in advance to go beyond NRA Basic Instructor Training into a NRA discipline-specific class. Or by pre-arrangement you can stop with the NRA Basic Instructor Training class. (You are not an NRA Certified Instructor until you complete the discipline-specific class and the NRA Training Department processes your application and issues your instructor credentials.)
Here are the five lessons in the NRA Basic Instructor Training class:
Opening exercise: How to Introduce a Speaker
The Instructor and the NRA Basic Firearm Training Program

Using a Training Team

Training Materials and Training Aids

Organizing Your Course

Preparing to Teach
This class concludes with the Trainers Examination, on which you must score 90% or better to pass the class. The discipline-specific instructor class that you take next begins with a "Lesson VI" appropriate to that discipline.

Here are currently scheduled NRA Basic Instructor Training classes in the Columbia, SC, area. We add classes throughout the year. If you do not find a satisfactory class date on this schedule you can reserve a place on the waiting list for a future class.
Email us now if you're interested in attending the NRA Basic Instructor Training class. We talk with prospective students first. Please be sure to include your telephone number(s) so we can call to prequalify you for the class, determine your needs, and answer your questions.